Most "Growth Hacking" advice is just re-packaged CRO tricks and one-time hacks that won't work for you…
…You will always be chasing the latest "hack" and wasting a lot of hard-earned resources and time trying various "experiments" but not much to show for it.
Instead, you should develop your own "Growth Marketing Engine" with the systems, strategies and team you need to get predictable, sustainable and exponential growth.
If there's a "formula" (and there is), it looks like this:
Strategies + Systems + Team = Growth
Yes, we're talking about:
More qualified and better quality MQLs that you can easily convert into SQLs and Opportunities.
Systems that are repeatable and scalable, allowing you to deploy proven methods of increasing your bottom-line without re-inventing the wheel every time.
Your own Growth Marketing Strategies that taps into your team, campaign feedback and data, psychology and more for developing iterations and new ideas that yield highly effective and ROI-focused campaigns.
Developing your Team, and perhaps even a dedicated Growth Team, to increase collaboration, capabilities and results. Growth is a team sport.
What's even more important, though, is this:
Your competitive edge and
unfair advantage is your Buyer
The key to consistent and sustainable growth is understanding your buyer better than they know themselves and serving them better than your competitors.
Achieving predictable growth is more dependent on your buyer psychographics, behavior, and more, than it is about tech hacks.
All that changes constantly (latest tech tactics, channels, etc.) but your "constant" is your buyer.
All that to say…
If you're a VP of Marketing, CMO, CEO or Founder with a B2B service, product or software company, you'll get the most value from the articles here.
But wait! If you're in a different position, or with a B2C company, you'll still be able to benefit (you just have to "translate" a few things).
Core topics that I cover: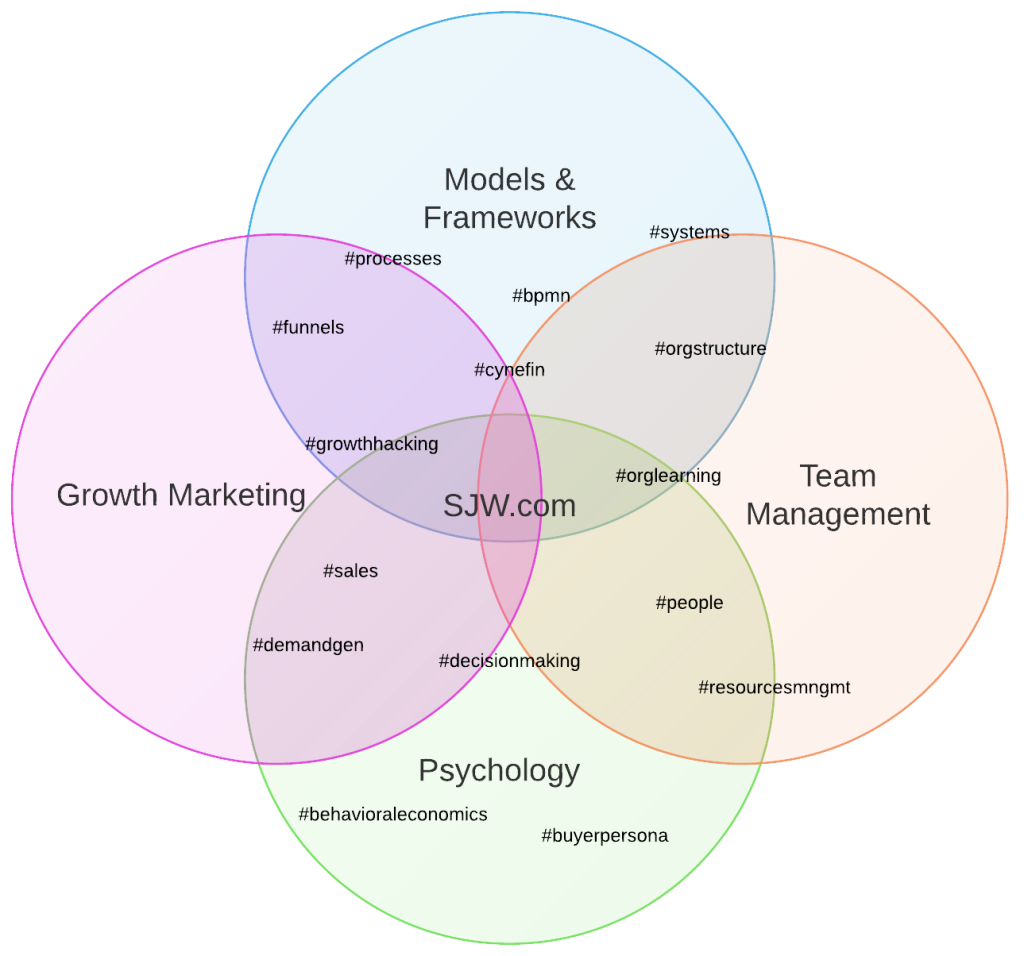 Frameworks and models for exponential growth: Growth marketing that takes you from initial traction to scale. Companies who have traction and are looking to scale get the most out of what I have to say. In general, this tends to be B2B businesses (in the SaaS, tech, and service industries), but even e-commerce stores can benefit.
Growth Marketing: Campaigns and Funnels that blend outbound/inbound, offline/online, a strong data and analytics framework, is the new marketing. Sure, "growth hacks" can be useful, but without a fundamental dedication to overall growth marketing strategies, you'll just play in a sandbox.
Growth Team Management: Growth does not happen by one person, and for the sake of your company, you need to develop and manage a dedicated growth team. People in charge of marketing teams (or looking to build one) with an emphasis on growth will especially appreciate this kind of content.
Psychology (Cognitive biases, persuasion, etc.): Your buyers are your constant in an omni-channel and multi-device world. Deep understanding of psychology, psychographics, behavioral economics, cognitive biases, etc. will help you achieve growth.
That's the very essence of what I cover. Of course, you should signup for my private email list, in which I share case studies and inside information on the latest strategies that I see used, and use.
So, should you stick around?
People who find my content most valuable: Owners, Founders, CMO's, VPs of Marketing (and a few other titles) in B2B service, product, software market but who need frameworks and strategies for optimizing their growth marketing and developing growth teams.
Even if you're not claiming those titles or functions, you're of course more than welcome to read and connect. I'm always interested in  expanding my network and meeting different people.
"So, Sam, What Kind of Track Record' Do You Have?"
Glad you asked. While most of our work remains undisclosed (our clients enjoy a NDA agreement for obvious reasons), some successes I've been a part of:
Founded and grew Stimulead to $250k ARR within 10 months, with a core focus on growth marketing to predictably generate qualified leads. The company has since pivoted and is exclusively focused on providing coaching and advising engagements for companies who need to develop or optimize their own growth marketing (demand generation, lead generation) strategies and build a team.
A small example of happy clients:
"Stimulead and Sam increased the conversion rate of our demand generation by at least 227%, resulting in quite a lot of new leads and also sales. Our team is also now working more effectively and producing consistent results after only a few weeks of training"

– Jeff Mendonza, VP of Marketing, Spectrum Software Group, LLC

"Our marketing campaigns saw a triple increase in ROI when Samuel with Growth Team worked with us for 4 months. From our website, email marketing, to print materials, he's done more for our marketing than anyone else I've ever worked with"

– Steve Koshinsky, Managing Director, Hill & Stone Financial, Inc

"Samuel & his Team transformed our whole marketing approach and team. We also saw a 63% increase in the number of qualified leads from our website and marketing"

– Robert Davis, CEO, Listings Forum, LLC

"Samuel, with his Growth Team, exceeded all our expectations and we've also tripled our pipeline conversions and are closing more deals now"

– Ron LeFaveu, Managing Director, MembraneTech Concepts, LLC
I've also worked on the team of these companies, with the following results:
Linchpin 2.0 – Software Automation Services with $35k MRR in 6 months.
Demand Genesis – Done-for-You Sales Development with $52k MRR in 12 months.
Get more value from these sources…
I've appeared on several podcasts, and written content elsewhere. Here's a quick breakdown for you: